ArboTag is a tag system for identifying trees, consisting of a label, a nail, a special hammer and a magazine. The tag is fixed to the tree in such a way, so as to prevent being covered over and concealed by the bark. Tags move along the nail as the tree grows and are eventually expelled without causing damage to the bark. This ensures that the label remains visible for many years.
ArboTag can be applied quickly and doesn't cause delays in workflows. Excellent durability of the label and the clear visibility of the number and text ensure that the label can be easily read, even after many years. Thanks to ArboTag, urban tree inventories can be efficiently marked, making periodic monitoring and maintenance activities easy.

SIGNUMAT ArboTag is a brand of LATSCHBACHER GmbH
Clear identification
ArboTag ensures clear identification of all trees in an urban environment, increasing traceability of monitoring and maintenance activities.
Easy management
The GreenSpaces platform lets users systematically register ArboTags during tree inventories and provides full control over your tree data at all times. Tag numbers ensure reliable traceability of monitoring and maintenance activities on all trees.
Exclusive system
The patented ArboTag system is the only tree numbering system that expands as the trunk grows. A magazine safety feature prevents premature and accidental release of tags.
Used by thousands involved in
urban green management
Companies
Public Administrations
Tree Experts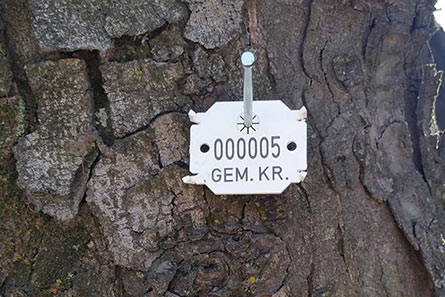 The Signumat system offers the right components for installing ArboTags
Modified hammer with a nail guide
A complete label dispenser with nail bag
Storage bag that holds up to 200 labels
Long hammer shaft
Thanks to an elongated hammer shaft, fixing heights of up to 2.5 m are possible. ArboTags are attached so that unauthorised removal is nearly impossible.
Fast application
The specially designed magnetic hammer and ergonomic tag magazine ensure fast application of ArboTags at 2.5 m height, where they remain easily readable over long durations. One person can easily label 100 or more trees per hour.
Tag "Grows with the tree"
The star shaped cut-out guarantees that the tag grows with the tree and is expelled at the end of the nail without damaging the tree.
Products
Find the product that best fit your needs.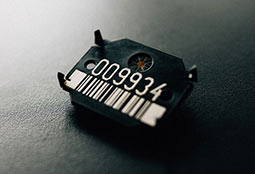 ArboTags
ArboTags are manufactured as sequential numbers in large quantities, which guarantee secure monitoring of urban tree inventories. The star shaped cut-out ensures that the tag grows with the tree.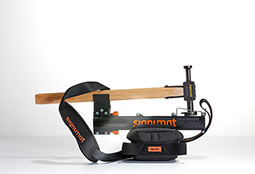 ArboTag magazine
The new ArboTag magazine is perfectly suited to the renumbering of trees during monitoring activities. The magnetic nail bag and ergonomically designed shoulder strap guarantee comfort and performance. Hammer sold separately.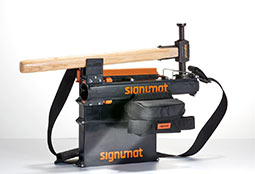 ArboTag magazine and carry case
The ArboTag magazine and carry case are available as a complete set for new tree surveys, with a capacity of 240 number tags in combination with the magnetic nail holder. Hammer sold separately.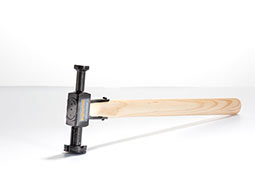 Hammer
Fixing heights of 2.5 to 2.8 m are possible using the special extended hammer shaft. Unauthorised removal of tags becomes nearly impossible, and security is ensured. The high-quality wooden handle is an improved feature of the original Signumat hammer.
REQUEST YOUR PRODUCT
ArboTag
Versions
ArboTags are available in black or white, with up to three customisable lines of text, consecutive numbering and barcode. Logos or numbering sourced from Excel files can also be added.